Welcome to BoiseBulldogs.com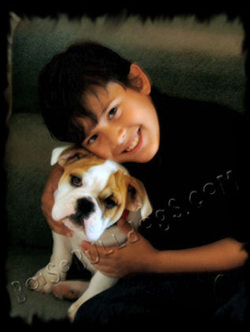 Our eldest son and his dog Pork Chop, 2005
Puppies grow up to resemble their parents, and especially their grandparents. We strive to maintain the AKC bulldog standards, with deep chests, low slung bodies, wide shoulders, and heavy wrinkles. All our matings are chosen carefully to bring together qualities that will make a fantastic bulldog and continue the physical and personality attributes that make the English Bulldog one of the most
beloved of all canines.
For information
email: info@boisebulldogs.com
phone
:
Michelle or Dimitri (208)275-9208
---
---
About Us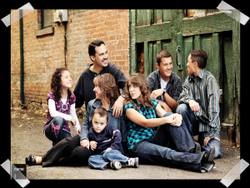 Our Family, Downtown Boise 2009
Our family and children have always been a priority in our lives. When we decided to add a family pet we began with the Boston Terrier. We researched many dog breeds and spoke with many dog owners and finally determined that at that time, the Boston would be the best match for our family. We were not disappointed! As our kids have grown, so has our taste in dogs! We again researched family pets, personality traits, and spoke with owners and decided an English Bulldog would be a great addition. We love our big beautiful Bulldogs! Our dogs have proven their loyalty, love and enthusiasm to us.

---
---
Our Breeding Program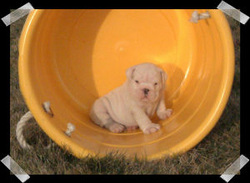 Angus from 2008 litter
We began breeding 13 years ago, and are dedicated to maintaining the breed standards of this wonderful dog. We are a small family ran kennel, and do not run a 'puppy mill', but breed only to selected studs that we feel will complement our female's strengths. We have spent lots of time gaining knowledge and education to properly breed puppies and maintain the breed standards of the English Bulldog held by the American Kennel Club(AKC).

We are located in Boise, Idaho. Our friends and neighbors look forward to all our puppy litters and the opportunities to visit with these chubby balls of fur and fun. Our puppies are raised along side our five children, with lots of love and attention. They are not kept outside in a concrete kennel, but are kept inside our home, with heat and air conditioning and lots of attention and interaction. When weather and puppy age permits, the pups are taken outside frequently for romps in our yard and play time with the children. All of our pups are well socialized to people, and already respond when called to by the time they leave our home for yours. We love to see our puppies go to good loving homes where they will become part of a family. If you live near the Boise Treasure Valley area, you are welcome to come and view our puppies when they are old enough for visits, typically at 7 weeks of age. Please call for an appointment.
---